By Joshua Fowler
When it comes to scene size-up on the fireground, strategies, tactics, and acronyms are abundant. In HazMat, Ludwig Benner's DECIDE acronym is a great start, but what about the
average engine company? How are we training our operations level personnel because, let's face it, they'll be the first ones on scene?
Many of you may (or may not) be familiar with the scene size-up acronym FPODP developed by Lloyd Layman. "A native of Fairmont, W.Va., Lloyd Layman (1898-1968) served overseas as an officer during World War I, after which he joined the West Virginia State Police, rising to the rank of captain by 1926. He organized and directed the agency's first training academy, which became a model for other states and brought him recognition as a leader in law enforcement.
While commanding the state police unit in Parkersburg, Layman was asked to serve as the city's fire chief, which he assumed in 1931, though not before he spent time with several progressive fire departments. Layman applied military tactics to the fire service, initiated pre-fire planning, and in 1941 authored a pamphlet titled 'Fundamentals of Fire Fighting Tactics.'
After the disastrous fire on the troopship Normandie in 1942, the Coast Guard asked Layman to direct its fire research and training efforts. Commissioned and promoted to the rank of
commander, he established and led the Coast Guard Fire Fighting School in Baltimore, which
trained over 7,000 personnel. At the time, the use of water fog was quite limited. Still, Layman's research through shipboard tests led to the development of the indirect application of fog as a successful suppression method. Following World War II, Layman returned to the Parkersburg Fire Department and applied the indirect attack method to structural fires. Confident of his work, he presented on the subject at the 1950 Fire Department Instructors Conference. His talk, titled 'Little Drops of Water,' was very well received." (1)
Layman "pioneered two fundamental documents in the fire service. The first was called 'Attack and Extinguishing Interior Fires.' The second was entitled 'Firefighting Tactics and Strategy.' Most of his work was done in the late 1930s and early 1940s, and for decades his methods were the standard for teaching individuals how to fight fires in structures. His texts are classics, and his work on the use of fog streams was based upon a simple theory. He theorized that finely divided water droplets interjected into a fire environment would result in extensive steam production.
The steam resulted from converting the water from a liquid to a vapor, thereby absorbing
huge amounts of British Thermal Units (BTUs). He theorized that under certain circumstances,
the use of fog streams was a very effective manner of extinguishing the fire in the setting of
structural fires." (2)
Using the FPODP acronym for initial HazMat size-up can serve as something familiar for your
operations level firefighters and give you, the technician, a great picture of what to expect when you arrive at the party.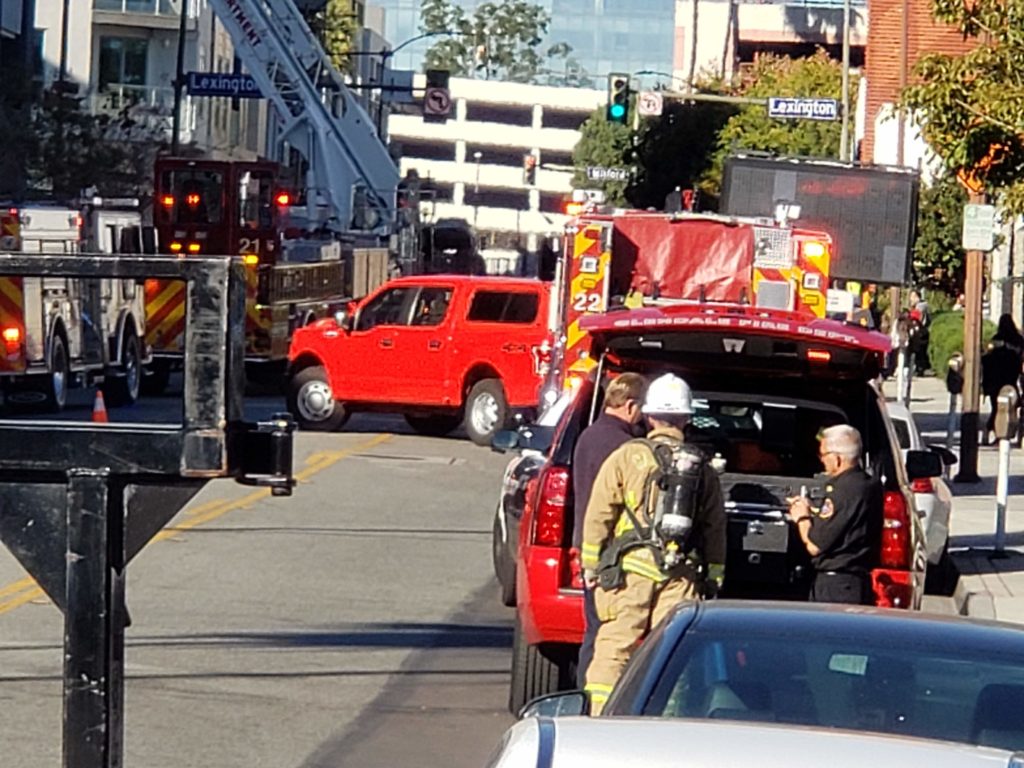 What is FPODP, and how can it be applied to HazMat? FPODP is an acronym normally used for
structural firefighting size-up. It stands for: Facts, Probabilities, Own situation, Decision, Plan.
Facts
Facts are the things you know. This can be based on dispatch information while en route or information gathered as you roll up on the scene (DOT placards, shipping papers, manifests, wind direction, location, time of day, etc.).
Probabilities
Probabilities are likely to happen, and this is where forecasting and risk management comes into play. Number one of the NIOSH 5 is improper risk assessment. Similar to Noll and Hildebrand's 8 Step Process, risk management can be broken down into 5 steps with an operations level engine company. Those steps are:
• Identify the hazards
• Assess the hazards
• Make risk decisions
• Implement controls
Identify the Hazards
Every engine should have access to an ERG, whether it be an electronic or hard copy reference. Additionally, a NIOSH Pocket Guide will be useful as well. My recommendation…download WISER onto your smartphone. It provides you with all the tools you will need to make an informed decision.
Assess the Hazards
For each hazard identified, determine the associated degree of risk in terms of severity and
probability. Severity is an assessment of the potential consequence that can occur as a result of a hazard and is defined by the degree of injury, illness, property damage, loss of assets (time, money, personnel), or effect on the mission or task. Consideration must be given to exposure potential. For example, the more resources exposed to a hazard, the greater the potential severity. Probability is an assessment of the likelihood that a potential consequence may occur due to a hazard and is defined by assessment of such factors like location, exposure (cycles or hours of operation), affected populations, experience, or previously established statistical information.
• Make risk decisions
• Implement controls
• Supervise
Own Situation
Your own situation is nothing more than your resources and capabilities within your respective jurisdiction. Many state that size-up begins the moment you receive the call from dispatch for the emergency. While I used to agree with the previous statement, I no longer agree after 20 plus years on the job. Size-up really begins the day before you go on shift.
Information such as weather, staffing reports, training calendars, and the like can be known
beforehand. Will it be clear skies and sunshine or thunderstorms and rain? Will it be humid and hot (my neck of the woods 9 months out of the year) or dry and frigid? Weather can play an important role in your pre-planning, especially in humidity and wind direction.
Next is staffing. How many team members will be on duty if you have a dedicated HazMat
station? How many team members will be scattered throughout your jurisdiction, and what is
their availability should a call drop? Are there conflicts due to training? What will be the chute and arrival times if the personnel is coming from scheduled events during an emergency?
One last consideration is the water supply. Most HazMat incidents occur on highways where water supply is limited. Incorporate bridges, overpasses, and traffic, and you have a surefire recipe for water supply issues. While non-exhaustive, the above are all vital questions and considerations that can be mitigated beforehand with a little pre-planning.
Decision
When making strategic and tactical decisions, you must identify your control options. Based on the Department of the Navy's Operational Risk Management (3), there are five options for
controlling risk. Reject the risk; avoid the risk; delay in action; transfer the risk; compensate for the risk.
Rejecting the risk implies that the risk outweighs the benefit. This is similar to refusing to save that which is already lost. Avoiding the risk is very seldom an option; however, some emergencies span multiple operational periods where working in low-light conditions presents an unnecessary risk that can be avoided. Delaying action can be a situation where, over time, the situation may change and the risk eliminated. An example could be allowing a product on fire to burn itself out. Transferring the risk seems to be how many jurisdictions are trending towards in that operations are being handed over to private environmental companies to minimize the liability. Lastly is to Compensate for the risk. To ensure the success of critical missions on a larger scale, organizations can assign redundant capabilities (i.e., multiple engine companies and HazMat) provided they have the resources to do so. On a smaller scale, compensating for the risk could mean having spare parts or additional equipment on-hand for mission accomplishment.
From an engine company, first-arrival standpoint, initial decisions should be based on the basic incident priorities of life safety, incident stabilization, and property conservation.
Plan of Operation
Lastly is to develop a plan to mitigate the incident. For fireground operations, this could be
offensive, defensive, or a combination of the two. For first arriving engine companies trained to the operations-level of HazMat, only one real plan is feasible: defensive. Their primary role is to analyze the situation, determine needed resources, implement a strategy, and evaluate the incident's progress.
While FPODP was originally intended for size-up on the fireground, we can easily see its
usefulness in the HazMat world. This becomes especially helpful for those personnel that make the initial response before HMRT deployment.