Ricochet has more than 25 years of experience producing sophisticated, high-tech gear for the rigorous and specialized needs of the military, industrial chemical workers and emergency first responders. Their exposure to the first responder needs has helped develop the skills, knowledge, and proven manufacturing techniques to provide the ultimate in Personal Protective Equipment (PPE) for emergency first responders, involved in Emergency Medical Services (EMS), technical rescue and now, fire fighting.
Drawing on this extensive experience in developing sophisticated high-tech military gear, Ricochet specializes in lightweight, non-restrictive protective clothing using the highest quality materials for maximum comfort and safety for front line personnel.
Ricochet Manufacturing is located in Philadelphia, Pennsylvania, and proudly produces all of its products in the United States. They are much more than a one trick pony! Yes they successfully won a five year award to supply the United States Air Force with both Structural and Proximity Fire Fighting Gear, administered by ADS, Inc (the Virginia Beach based defense contractor) but they are also the leading clothing supplier to Hazmat teams and first responders across the country!
The company continues to add to its skilled workforce in Philadelphia, steadily increasing its manufacturing capacity and capabilities to meet the needs of not just the Air Force, Air Guard and Reserve, world wide, but in maintaining deliveries of its growing business in the municipal fire, emergency services, and technical rescue markets.
There are plenty of testimonies to the quality of their product. One fire department in California tells us, "Our department began searching for a durable and comfortable set of turnout gear for our members to reduce fire ground fatigue. The transition to utilizing Ricochet approximately seven years ago with two test sets and to date we are thoroughly satisfied. The gear wear, stability, durability and excellent comfort has so far exceeded multiple other manufactures which we purchased from in the past. Our representative and Ricochet manufacturing have been excellent to work with in solving our requests and design changes, fit issues have been rare and gear is being reported as extremely comfortable by our members. We recommend the Ricochet line as one of the most comfortable and durable sets of gear we have purchased".
We like their newly designed structural and proximity fire fighting gear. The Ricochet Maximum Mobility® Gear design provides increased range of motion with less bulk, more flexibility and lighter weight utilizing advanced materials supplied by respected suppliers such as; TenCate Protective Fabrics, W.L. Gore & Associates, and Gentex Corporation.
We checked out the Frontline™ EMS jacket which offers the most breathable and comfortable jacket on the market today. It's NFPA-1999 (2018 edition) and certified with a CROSSSTECH® EMS fabric two-layer outer shell and polyester mesh hung liner. Customize your jacket with reflective lettering or a Polartec® zip-in warmth liner.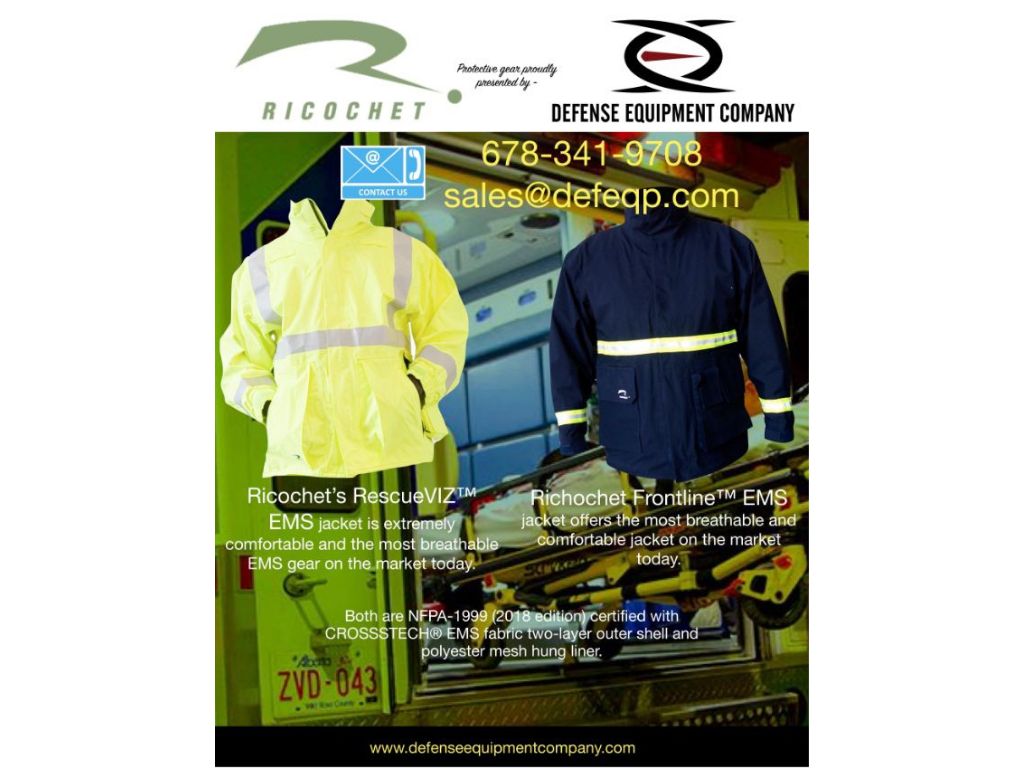 The jacket boasts a fully-sealed 3.5 oz/yd2 Navy Blue CROSSTECH® EMS fabric shell: vapor-permeable, liquid and blood-borne pathogen protection. Other features include;
NFPA-1999 (2018 ed.) certified
Breathable mesh liner with inside barrier inspection/access port
1.5" lime yellow and silver reflective sewn-on fabric triple trim encircles jacket cuffs and jacket body around chest and back
Heavy-duty lock-stitch closure stitch for super-strong seams
All stress points are bar tacked (28-stitch tack)
All seams are heat-welded and sealed with GORE-SEAM® tape
Lie down collar
Water-resistant zipper and one-piece front flap with hook & loop closure
Two semi-bellows front hip pockets with top flaps and hand-warmers
Medium radio pocket with mic tab on the left chest
Adjustable elastic sleeve cuffs with hook & loop tabs
EMS and First responders can get the best deals right now by contacting the trusted supplier (and partner of Dual Nations), DEC – www.defenseequipmentcompany.com