Originally published on The Advocate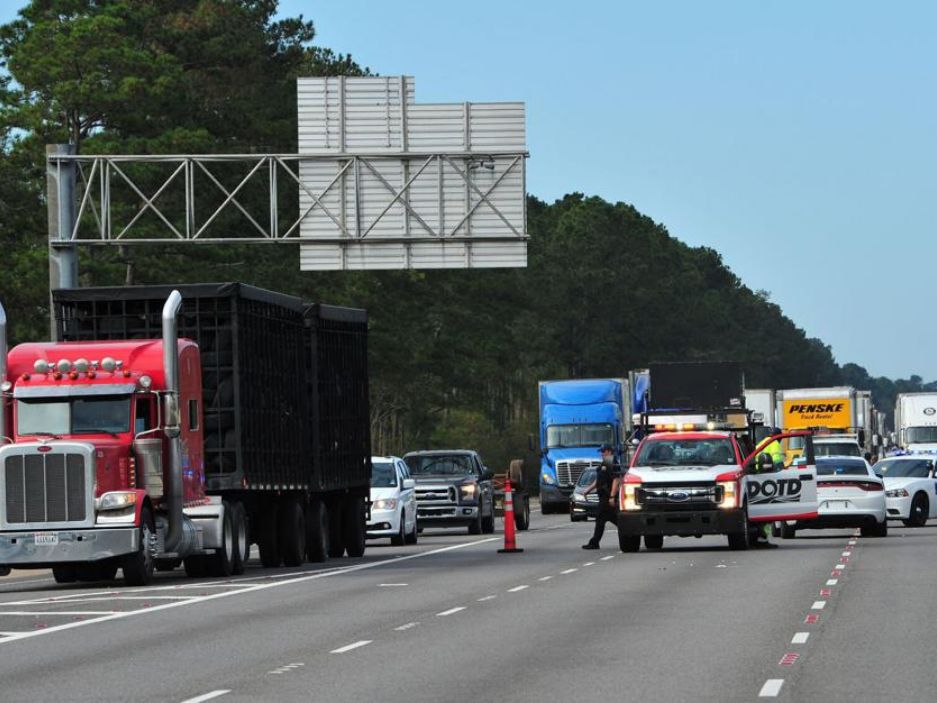 An 18-wheeler carrying hazardous material crashed into a Louisiana state trooper targeting speeding drivers early Friday, sparking a fire that shut down the eastbound lanes of Interstate 12 near Satsuma, State Police said.
The agency reported at least one injury, but did not provide specifics. Television station WBRZ reported that the driver of the truck and the trooper operating a radar unit were both hurt. Television station WAFB reported the drivers suffered moderate injuries.
"I-12 eastbound at milepost 19 (Satsuma) is currently closed due to an injury crash involving a tanker hauling hazmat," a State Police post to Facebook said. "Both eastbound lanes of travel are currently closed at this time as crews work to clear the scene. Eastbound traffic is being diverted to US Hwy 190 at LA Hwy 447."
It wasn't known what the tractor-trailer was carrying, but WBRZ said officials had told the station there was no need to evacuate.
Video posted online from near the scene showed flames reaching into the sky as high as the tops of pine trees that line both sides of the interstate.
The crash happened around 4:30 a.m., according to State Police. Police told WBRZ that a trooper was on the shoulder of I-12 with the vehicle's emergency lights on while using radar to enforce the speed limit.
The driver of the 18-wheeler started to switch lanes when a tire blew, causing the driver to lose control of the tanker, WBRZ reported. The 18-wheeler then crashed into back of the trooper's vehicle.
It wasn't clear whether the tanker exploded or caught fire after impact. In a reply to the State Police Facebook post, a resident about 7 miles away from the site said she felt the crash. WAFB interviewed a woman who said she felt small explosions and then a larger one, but she did not say how far she was from the crash site.