Originally published by Independent
It may not feel like it, but many of us have been fortunate to enjoy a tediously predictable winter. For some families, the tedium has been interrupted by something sudden and shocking.
Nine suspected gas explosions affecting tenants and homeowners have taken place across Britain between since late October 2020 – nine blasts which caused deaths, injuries or serious building damage.
Four people have been killed and 13 others injured in these terrifying explosions, while dozens of neighbours have been evacuated from their homes amid the wreckage.
Earlier this week, a 61-year-old woman died and two people were wounded in a suspected gas explosion at a house near Bury which destroyed the place entirely. One neighbour said it was "like a bomb had been dropped in the middle of the street".
Safety experts are calling on the government to investigate this "alarming" spate of incidents. So what exactly could be causing these eruptions? And how worried should we be about the safety of our homes?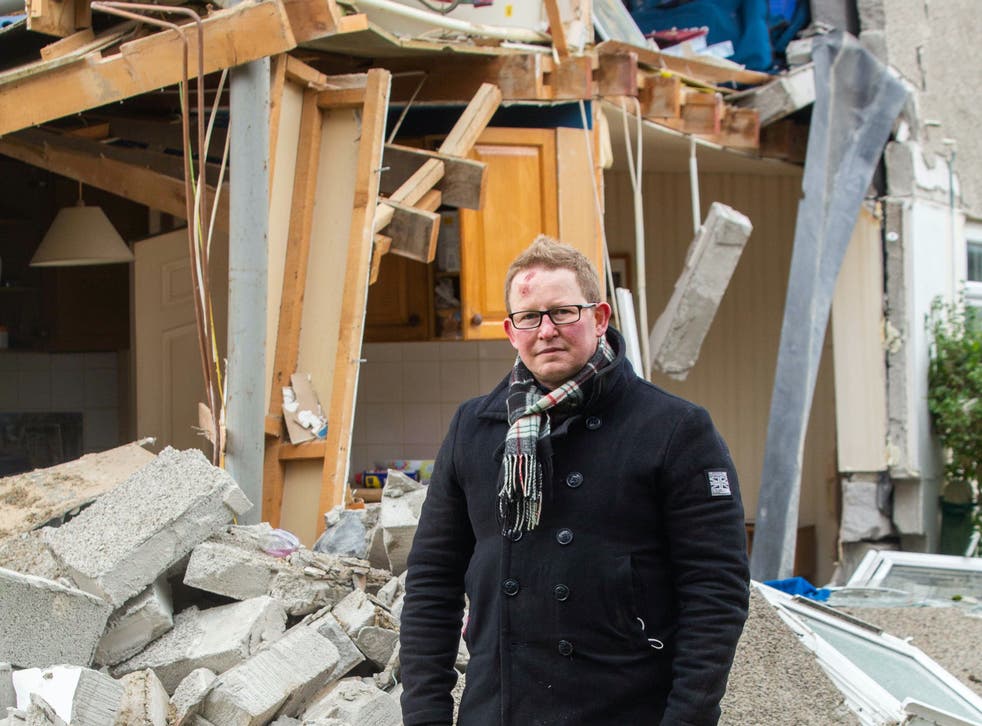 Until recently, Darren Cornish had no reason to fear the safety of his parents' home in Cornwall. The 48-year-old paramedic was visiting his mum and dad in Bude on the evening of 20 January when he noticed the smell of gas in the kitchen.
"Mum wanted to show me the cooker had still been working, went to switch it on and before I could stop her there was a massive flash – a blinding flash," he told The Independent. "That was it. The walls on one side of the house were blown out. Horrendous. We were in total shock.
"Mum received flash burns on her arms and hands. Dad was lucky and was unscathed. I banged my head as I tripped over debris taking them outside. We were all lucky, I suppose, that the roof didn't completely fall in."
Mr Cornish said his parents were using two liquefied petroleum gas (LPG) cylinders stored behind the house, operating the cooker through a series of pipes. "We think there might have been some sort of leak somewhere, but we just aren't sure yet."
He added: "I thought it would be so rare, so it's surprising to read some of the other stories and find out explosions have been happening elsewhere in the past few months."
This week's explosion at a home in the quiet village of Summerseat, on the outskirts of Bury, has left the community in shock. There were reports of a gas smell in the air in the aftermath of the blast.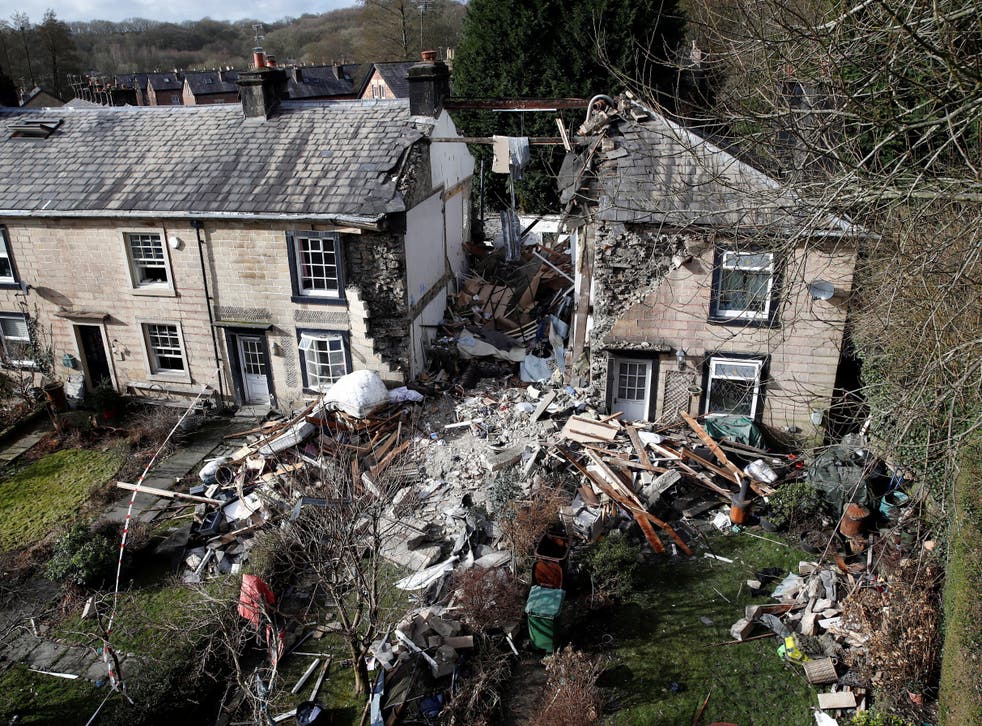 While inquiries are at an early stage, Greater Manchester Police said the gas supply to the street had been isolated in an attempt to work out what had happened. GMP, Greater Manchester Fire Rescue Service and the local supplier Cadent Gas are all involved in probing the precise cause.
The Health and Safety Executive (HSE), which probes all incidents related to work-related harm, said it is currently "liaising" with police about the cause of the explosion near Bury, and whether it needs to investigate.
In fact, of the nine recent blasts, the HSE is actively investigating four of them. The executive's inquiries include the blast at Mr Cornish's parents home in Bude, and a suspected gas explosion at a house in Portsmouth on 1 January.
Three people were injured in the blast on the south coast, which ripped through the back of the terraced house.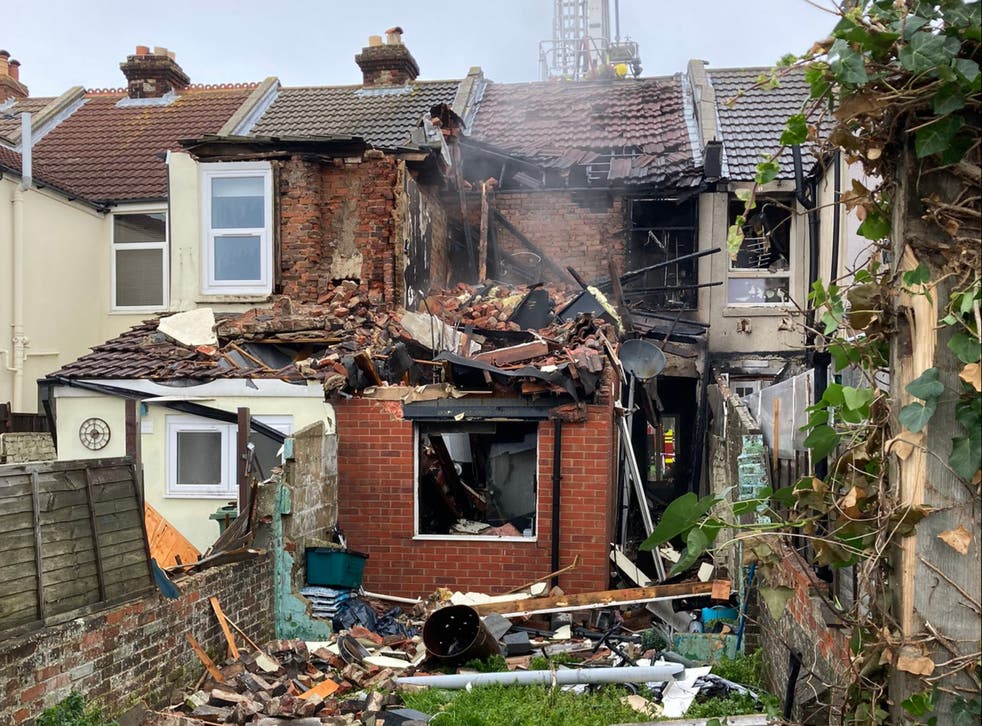 The executive is also looking into two suspected gas explosions from December: one at a house in Illingworth, west Yorkshire, in which three people were injured; the other at a house in Peterhead in Scotland in which no one was hurt.
In the other recent cases, the HSE is satisfied there are no work-related issues – problems with gas mains supply or work done installing a gas device. So it's been left to other agencies to work out the cause.
Shropshire Fire and Rescue Service has got to the bottom of a huge explosion in the village of Cressage on 26 November, described by one witness as an "erupting" fire ball.
A spokesman told The Independent that a fire at a property on Severn Way spread to a "bullet" tank full of LPG gas, which then erupted. Although several homes were damaged, thankfully no one was hurt.
Elsewhere, Ealing Council is leading inquiries into October's suspected gas explosion at a shop underneath flats in Southall, west London, in which two people died. London Fire and Rescue Service is probing November's suspected gas explosion at a block of flats in Stratford, east London, in which one man died.
Chris Clarke, a partner at Fire Investigations UK, says blasts inside people's homes are not always caused by issues with gas mains supply, or gas cookers and boilers. A wide array of household devices can be to blame, he explains.
Some are caused by gas cylinders used for portable heaters or barbecues. Some have been caused by the gas inside aerosol cans, like acrylic paints or cleaning products found in the cupboard. And some have been sparked by petrol, rather than gas.
"We're surrounded by small devices that could explode in our homes," said Mr Clarke, whose firm investigates incidents on behalf of insurers and law firms. "Some of the blasts initially suspected to be a gas explosion comes from petrol vapours – it's one of the most dangerous explosive things stored in people's homes."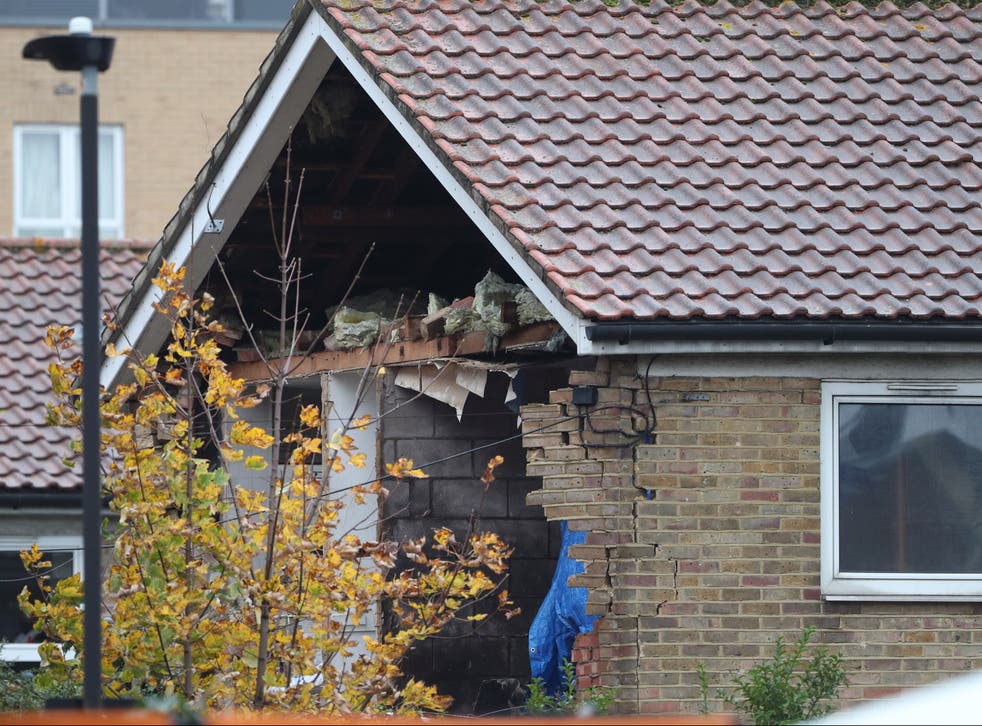 Illegal drug labs are another potential cause of explosions. Several fires and gas explosions over the last decade have been caused by amateurs cooking up illicit substances, according to Mr Clarke.
Last March, James Toogood was jailed for eight years after he was found guilty of blowing up two council flats in Bristol's Hartcliffe suburb when trying to make butane hash oil (BHO).
Mr Clarke is particularly concerned by people making BHO, a super-strength form of cannabis. Flammable gas is used as a solvent to help extract the active ingredient in the drug.
"We live in a YouTube society, where people feel they know enough to mess about with chemicals after watching something online," he said.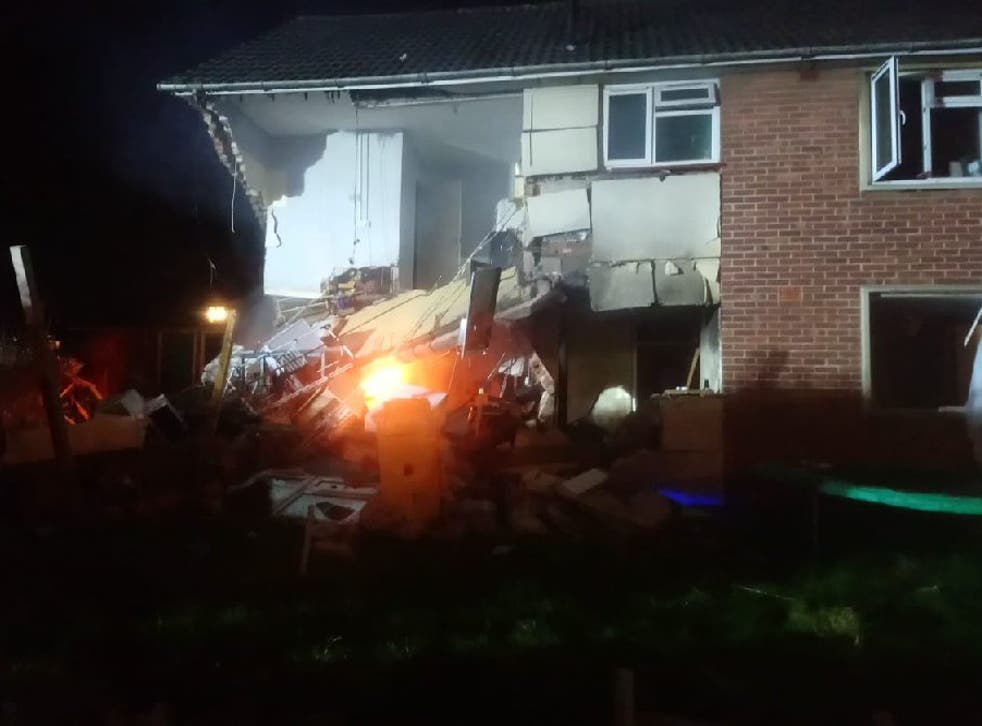 Despite the wide variety of possible causes, some experts believe it's worth considering why so many explosions have been happening at domestic properties lately.
Stephen Mackenzie, an independent fire safety expert who works with local authorities and housing associations across the UK, wants the government to commission an investigation to examine whether there is a wider problem.
The spate of recent blasts follows a 33 per cent rise in the number of gas explosions and fires linked to flammable gas, according to the HSE's latest annual statistics.
The figures show there were 41 gas explosions and fires from flammable gas causing death or injuries in the year until April 2020, a rise from 31 incidents the previous year.
A spokesperson for the HSE told The Independent the body did not believe it was a "substantial" increase in cases, saying there were no plans to review the rise in cases.
Mr Mackenzie is not convinced. "We saw a significant increase in the number of gas explosion incidents recorded last year. We don't know why this is happening and we need to know. The government needs to investigate and take a wider look at gas safety in the UK."
The safety expert added: "The suspected gas explosions we've seen recently are deeply alarming. I can't remember a spate of really serious incidents like this over just a few months – incidents where see deaths, injuries, the side of homes blown out."
Neither Mr Mackenzie nor Mr Clarke think recent events are likely to be linked to the pandemic.
"There may be an increased risk [of fires or explosions] from more people at home doing work on their homes," said the latter. "Possibly. On the other hand, people are inside to discover things in their early stages – they're around to smell gas or put out a fire."
However, Stephanie Trotter, president of CO-Gas Safety, also known as The Carbon Monoxide and Gas Safety Society, would also like to see a review of recent incidents. "We think the HSE should investigate and consider whether there is a wider problem."
Gas safety groups are also calling for the laws around carbon monoxide alarms to be changed so the devices become more widespread.
The Ministry of Housing, Communities and Local Government (MHCLG) recently proposed a series of changes to the regulations – including making it mandatory for carbon monoxide alarms to be fitted alongside all heating systems.
But Ms Trotter and others are dismayed that gas cookers are excluded from the proposed changes. "It's not only the deaths [from carbon monoxide poisoning] we are concerned about," she said.
"We're also extremely worried about exposure to carbon monoxide which can cause lasting nerve and brain damage and many other injuries. We'd like to see a government information film and social media warnings.
"People should know that appliances need regular servicing by qualified engineers. Chimneys and flues need regular sweeping and it's vital not to block air vents."
A spokesperson for the housing ministry said the department was considering "tougher requirements" for both smoke and carbon monoxide alarms. "We've consulted on these proposals and will set out plans in due course."
A spokesperson for the HSE stated: "HSE has not seen a substantial increase in the number of gas explosions at domestic properties in the past 12 months.
"While the figures may have risen, when interpreting trends it is important to look at the long-term picture over a period of years and acknowledge there may be other causal factors at play."