Recently, I had the opportunity to speak with David Barnett, the Senior Vice President of Engineering from the well control company "Wild Well Control". Wild Well Control is dispatched throughout the US, and across the world to control well blowout incidents. Being from a rural fire department with many well sites, I have been able to respond to incidents like these, but realize they are extremely low frequency, and some others may need insight as to how to mitigate them. For your training pleasure, HazmatNation brings you an interview with one of the worlds most prestigious well control companies.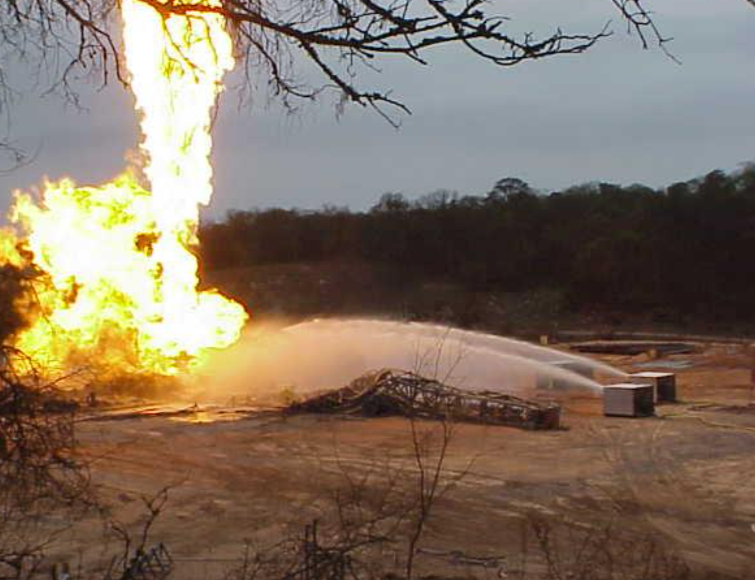  When a well blowout occurs, what initial actions are the most proactive for local responders to take? (How can we make the scene ready to receive help from a company like yours?)
o The most important thing is to ensure the safety of personnel at the site. In some cases this might require formalized S&R that the rig site personnel are not adequately trained for. It may require specialized PPE that the rig crew does not have available (bunker gear, SCBA, etc.). The S&R might be conducted under hazardous conditions such as fire or, worse, gas/oil/condensate that is not yet ignited. The unignited scenario involves much more risk for entry onto the wellsite since ignition can, and often does, happen without notice.
o Beyond ensuring safety of onsite personnel, the site needs to be secured. Some wells may be near population or roadways and the public could be at risk from toxic or explosive atmospheres. I see local first responders as key to implementing make safe strategies. There may be nearby potential ignition sources that can be deactivated if they can be accessed safely.
 What kind of time frame are we talking from initial notification, to your equipment arriving on site?
o There are two components really – people (Well Control Specialists) and equipment o People can be dispatched in fairly short order – we often get charter flights to the area and can be onsite within a few hours
o The location of the event is the schedule driver for equipment deployment. We have specialized equipment staged in Houston HQ plus, Midland, TX, Denver, Co and Pennsylvania. ETA is a matter of load out and drive time.
o Other considerations for equipment arrival on a blowout – when I say 'specialized' equipment I'm talking about fire pumps (4,000 gpm up to 6,000 gpm centrifugal), athey wagons, jet cutters, etc. The truth is that the fire pumps require a water source and that usually takes some time … again, depending on location and available nearby resources, it could take a couple of days to get a water source established. This is usually either a large earth pit or a series of 12 or so 500 bbl frac tanks tied together.
o Getting water coverage is typically one of the first steps in a blowout situation – we use water to prevent ignition if the flow is unignited or we use it to protect personnel and equipment if the well is on fire. All of the other pieces of specialized equipment come into play only after we have water cover in place.
 Does your team use gas meters? What types/sensors are you using?
o We have Safety Specialists that we almost always deploy on blowout situations. As part of our site safety plan, they will assess toxic and combustible gas levels at various points to establish our hot, warm and cold zones around the well. We various multi-gas detectors usually for LEL, H2S, O and CO.
o If there are toxic levels of H2S expected then we will typically get a specialist company to provide more sophisticated gas meters, set up fixed remoted gas monitoring and provide SCBA equipment.
 Do you find yourself working well with local responders? If not, what can we do to become better at understanding an event like this?
o We work with first responders frequently and it is typically a good collaboration. The issue that comes up more often than anything else is when we have untrained people attempting to intervene on a wellhead before specialists. There are risks associated with a pressurized wellhead that are much different than other types of events. As one example, equipment can fail suddenly and cause a jet flame to erupt or change direction in seconds. Knowing where these potential leak/failure points are can at least allow specialists to avoid putting themselves in harm's way. There are many other hazards – tubing being expelled, rocks and debris flying out of the well, sudden spontaneous ignition, pooling of hydrocarbons, ground eruptions near the wellhead (broaching), etc.
o In my opinion, the best way to improve how first responders can assist with these events is to involve them in the contingency planning for the operator (well owner). WWCI develops numerous emergency plans – Emergency Response Plans (ERPs). We encourage our clients to collaborate with local first responders – especially in populated areas. This collaboration can have lots of positive impacts – educate first responders to that they are more knowledgeable about the risks, educate the operator so that they are more knowledgeable about first responder resources and capabilities and pre-plan what actions each side needs to take during an emergency. We also encourage our clients to engage first responders and include them in emergency exercises.
 Do you have a most memorable response? Can you tell us about it?
o When I think of the responses that stand out, most of them are overseas. Of course there's the 750+ fires that we took on in 1991 in Kuwait after Saddam Hussein set fire to the oil fields. The Macondo (BP) subsea blowout in the Gulf of Mexico will always stand out as one that I hope we never encounter again.
o One of the biggest land blowouts I've worked on was in the jungle in Bolivia. It was a massive gas blowout that took over 2 months to subdue. When we first arrived the well was blowing out from two places; one flow was at the rig floor and the other at the emergency flare line. The entire wellsite was engulfed in a huge gas cloud. The flare line was burning but the gas from the rig floor was not (Gas12 & Gas22). We worked for several days trying to get the equipment around the well removed. We were actually under the rig with some equipment when the flow from the rig floor finally ignited. I've attached a few pictures of the fire and some of us working around the well. We finally got the well capped and diverted it since we could not shut it in due to erosion. We installed a snubbing unit and kill the well from bottom. This is the last well we ever used dynamite to extinguish. We used 650 lbs to snuff it. Nowadays we use high rate pumps and monitors along with chemicals – there's no well fire around that we can't put out with that combination and it's a lot easier to get that equipment than it is to get your hands on several hundred pounds of dynamite these days – especially in some part parts of the world.
 What types of backgrounds do your responders come from?
o We have two types of specialists – Well Control Specialists and Well Control Engineers. Both respond to blowouts along with various other emergencies, pressure control jobs and other unusual situations.
o The WC Specialist usually have either an extensive drilling background or experience in the snubbing business. A lot of the WC Specialists came to know the people in the well control business because they deployed snubbing units on post-blowout well recovery operations. I'm an Engineer myself but I came up through the snubbing business and worked my way through college so I have been able to play both roles – WC Specialist and WC Engineer.
o The WC Engineers typically have a background with a major service company or and oil and gas operator. There only needs to be something in their DNA that make them like challenging situations like you'd never find working for a large organization.
 For large scale incidents, do you fall into the National incident management system for ICS, or is the operation privately operated?
o We have worked under formalized ICS and been involved with FOSC and government entities like USCG but primarily only on blowouts that are offshore. Most of the land blowouts are on private land and the well owners are private organizations who answer to the state regulatory body (Railroad Commission in Texas, Corporation Commission in Oklahoma, etc.). The exception to that is in the rare case where there's a blowout on Federal lands.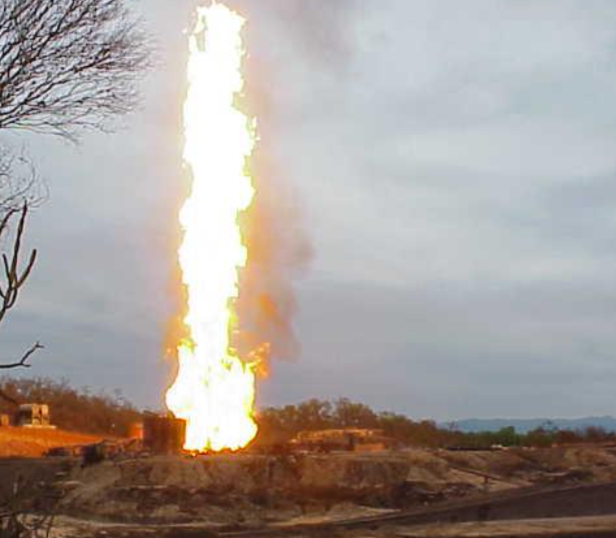 About David Barnett
David has been in the oil and gas industry since 1978 with several jobs in drilling, and snubbing operations over the years. He joined Wild Well Control in 1995 and helped to establish the Engineering component of the organization. David was a Team leader during the Kuwait Oil Fires Campaign and was the Kill Team Leader on the BP Macondo subsea blowout. He has worked dozens of fires, blowouts, and relief wells in too many countries to count, all over North America, South America, Middle East, Russia, India, South East Asia, Europe and Australia. He now serves as the Senior VP of Engineering and is responsible for Engineering, Engineering Services, and Risk Management Services Department.